Irene Peirano Garrison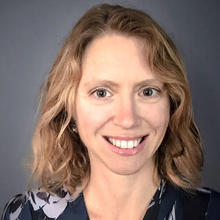 Irene Peirano Garrison studied at Oriel College, Oxford (B.A. Hons. Literae Humaniores 2002) and Harvard University (Ph.D. Classical Philology 2007). Her main research interests are Latin poetry, Literary Criticism and Rhetorical Theory in Antiquity, Reception Theory and Gender. She works on Roman poetry and its relation to rhetoric and literary criticism, both ancient and modern.  She is especially interested in ancient strategies of literary reception, in notions of authorship in antiquity and in ancient editorial and scholarly practices.
Professor Peirano Garrison serves as the co-chair of Archaia, the Yale Program for the Study of Ancient and Premodern Cultures and Societies.
Her first book — The Rhetoric of the Roman Fake: Latin Pseudepigrapha in Context (Cambridge University Press, 2012) — sets authorial and chronological fictions in the context of practices of impersonation and role-play in the literary culture of the Imperial period, and explores these works as part of the early reception history of canonical authors such as Virgil, Tibullus and Ovid. The book was awarded the 2015 Alexander McKay Prize for Vergilian Studies by the Vergilian Society.
Her second book — Persuasion, Rhetoric and Roman Poetry (Cambridge University Press, 2019) — investigates the boundaries between rhetoric and poetry in the Imperial period. Moving away from the traditional focus on cataloguing "rhetorical" elements in poetic texts, the book explores the construction of poetry and the poetic in texts such as Seneca the Elder's Controuersiae and Suasoriae, Quintilian's Institutio Oratoria, Macrobius' Saturnalia and Florus via the figure of Vergilius orator. It also analyzes responses to these narratives in Roman epic in embedded scenes of rhetorical performance from the first simile of the Aeneid to scenes of assembly and debate in Ovid and Lucan.
Her current project examines the history of authenticity from the work of Hellenistic scholars on Homer, to the Roman adaptation of this scholarly genre, to the early Christians' adoption of Alexandrian terminology in discussions of textual fides, authenticity and canon, to nineteenth century re-configuration of this discourse by Lachmann and others. The work seeks to historicize the discourse of the authorial original in a comparative perspective by drawing attention to the discontinuities between the modern philological method and Greco-Roman scholarship.
For more information please visit: https://yale.academia.edu/IrenePeirano
Selected Publications:
"Pseudepigrapha and Pseudepigraphy", invited paper co-authored with Hindy Najman in The Study of the Pseudepigrapha: Fifty Years of the Pseudepigrapha at the SBL, M. Henze and L. I. Lied (eds.), forthcoming.
"The tomb of Virgil: monument as poetic memory", in N. Goldschmidt and B. Graziosi (eds.), Tombs of the Ancient Poets: Between Text and Material Culture. 265-80. Oxford. 2018.
"Between biography and commentary: the ancient horizon of expectations of VSD", in P. Hardie and A. Powell (eds.), The Ancient Lives of Virgil: Literary and Historical Studies, 1-28. The Classical Press of Wales. 2017.
 "Newly written buds: Archaic and Classical Pseudepigrapha in Meleager's Garland", in Authorship and Greek Song: Questions of Authority, Authenticity and Performance. E. Bakker (ed.). Brill. 2017.
"Sphragis: Paratextual autobiographies", in Paratextuality and the Reader in Roman Literature and Culture. L. Jansen (ed.). 224-42. Cambridge University Press. 2014.
 "Ille ego qui quondam: on authorial (an)onymity", in The Author's Voice in Classical and Late Antiquity. A. Marmodoro and J. Hill (eds.). 251-85. Oxford University Press. 2013.
 "NON SUBRIPIENDI CAUSA SED PALAM MUTUANDI: Intertextuality and literary deviancy between law, rhetoric and literature in Roman Imperial culture", in Intertextuality and its Discontents. Y. Baraz and C. van den Berg (eds.). American Journal of Philology 134 (2013), 83-100.
"Authenticity as an aesthetic concept: ancient and modern reflections" in Penn-Leiden Colloquium on ancient values (VI), Aesthetic value in Classical Antiquity. R. Rosen and I. Sluiter (eds.). 215-42. Brill. 2012.