A titan of Ancient History and one of the greats of twentieth-century historical scholarship, Rostovtzeff taught at Yale from 1925 until his retirement in 1944. He served as President of the American Historical Association in 1935–1936. Rostovtzeff was a world authority on Hellenistic and Roman history and wrote widely on ancient history, particularly in the field of economic history.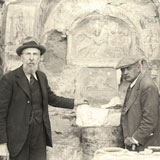 He was also an expert on the history of South Russia and Ukraine, and the art and archaeology of Dura-Europos. Rostovtzeff began study of the ancient world with a thesis on Pompeii; his M.A. thesis covered the history of tax farming; his doctoral dissertation was a social and economic history of Rome from lead tesserae.
 The collapse of the Romanov empire and the triumph of Leninist bolshevism, apart from determining his view of the Roman empire, also drove him from Russia in 1918.He spent two years at Oxford; in 1920, after proving he was neither a Jew nor a Communist, he was offered a chair at the University of Wisconsin, Madison, where he remained for what he termed the happiest five years of his life. At this time he wrote seven chapters of the Cambridge Ancient History. In 1925 Rostovtzeff became Sterling Professor of Ancient History and Classical Archaeology at Yale, where he published his two greatest works: Social and Economic History of the Roman Empire (1926) and The Social and Economic History of the Hellenistic World (1941), both of which left an indelible mark on the practices of ancient history.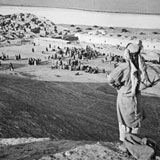 In 1927 he undertook and directed the Yale excavations at Dura-Europos, which had a profound and lasting impact on the composition of the Classics department for the next few decades.
More About Rosovtzeff's Life and Writing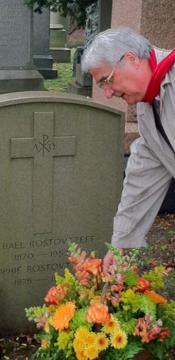 The Rostovtzeff Project
Bowersock, G. W. Rostovtzeff in Madison in American Scholar, Spring 1986, Vol. 55/3, pp. 391–400.
Calder, W. M. III, "Rostovtzeff, Michael" in W. W. Briggs, Jr., ed., Biographical Dictionary of North American Classicists, Westport, Ct.: Greenwood Press, 1994, pp. 541–547.
Momigliano, Arnaldo. M.I. Rostovtzeff in Studies on Modern Scholarship. Berkeley: University of California Press, 1994. Pp. 32–43.
Reinhold, Meyer. Historian of the Classic World: A Critique of Rostovtzeff, Studies in Classical History and Society (American Classical Studies; 45). New York: Oxford University Press, 2002. Pp. 82–100.
Shaw, Brent D. Under Russian eyes," The Journal of Roman studies, Vol. 82 (1992), pp. 216–228.
Wes, Marinus A. Michael Rostovtzeff, historian in exile: Russian roots in an American context (Historia-Einzelschriften; 65). Stuttgart: Franz Steiner Verlag, 1990.
Wes, Marinus A. "The Russian background of the young Rostovtzeff", Historia: Zeitschrift für Alte Geschichte, Vol. 37, No. 2 (1988), pp. 207–221.
Wes, Marinus A. "The Correspondence between Rostovtzeff and Westermann. A Note on Gaetano De Sanctis", Historia: Zeitschrift für Alte Geschichte, Vol. 42, No. 1 (1993), pp. 125–128.
More About Dura-Europos
The Excavations at Dura-Europos, Preliminary and Final Reports. New Haven: Yale University Press; Los Angeles: University of California Press; Ann Arbor: University of Michigan Press, 1929–2001.
Matheson, Susan B. Dura-Europos: The Ancient City and the Yale Collection. New Haven: Yale University Art Gallery, 1982; revised, 2001.