This year's colloquium is a series of seminars on the topic of home — and houses, households, homelands, and homecomings — in classical antiquity. (Connected with the series is an international conference in April 2014 — Away: The Epic Journey.)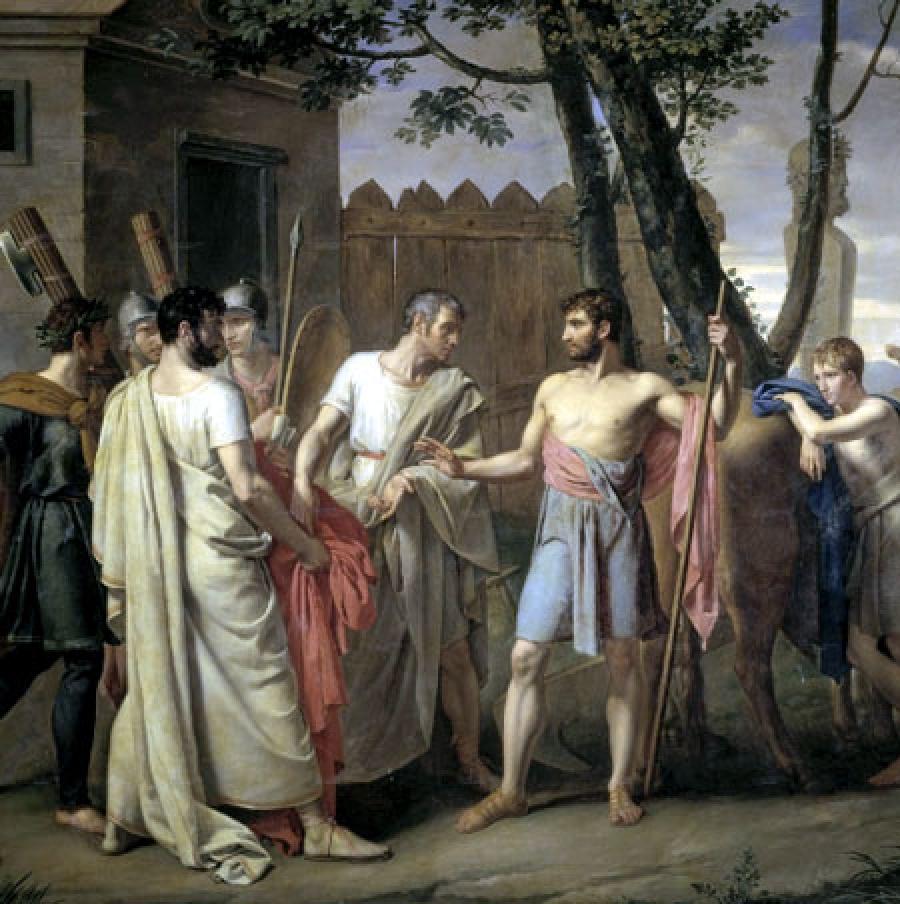 Home is humanity's first place. It is, perhaps, the first space set apart by human culture from the natural world. Because of its primacy, it structures human existence, providing shape to communities, to landscapes, to stories, to memory, to lives. But just as long as humans have been making and calling places home, they have fought the efforts and claims of others.
Classical antiquity is rich in homes: the physical remains of ancient homes (domus and oikoi), the home as setting for dramatic action, as a point of departure and goal of return, the homeland as a marker of ethnic identity. The idea of home has its darker side too. It excludes, separating inside from outside, distinguishing "us" from "them"; even within the home, boundaries of gender, age, and social status are constructed and negotiated. Violence is sometimes needed to police these boundaries. Home is often intrinsic to a recognition of self-identity and the difference of the other: not accidently did Freud develop a theory of das Umheimliche.
Home is equally, if not more important, in its absence. The experiences of exile, diaspora, and wandering are defined by the loss and longing for home — which can be understood temporally as a longing for a past. Oriented slightly differently, projects of colonization (oikisis) constitute a desire for a new home, leaving behind an old one, a trauma that is worked through in a number of ways, from myth to monumentality. Home has its temporalities Is home where I am now, or The varieties of homelessness are as many as, or even more numerous than, the varieties of home.
Over the academic year, this colloquium will consider homes, houses, households, homelands, and related ideas in three areas in particular. We are especially keen to see how these areas of exploration overlap and inform one another.
Home as a built space.
The archaeology of classical living spaces (broadly defined) is important for any historically grounded appreciation of the home. And such spaces have changed over time, just as the concept of home has itself changed. The household — its space, its people — is also a basic unit of the ancient economy (oikonomia).
Home as literary theme
Ancient literature is deeply concerned with narratives of homecoming (nostoi), the defense of the household, violations of the customs of the home and hosting, and the competing demands of the political versus the domestic. Nostalgias for places left and times past run through ancient literary prose and poetry.
Home as basis for community and identity.
For groups, belief in a shared homeland provides a common ground for belonging (and for exclusion); for the individual, an idea of home can define and serve to articulate a sense of self (and exclude the other).
Organized by Andrew Johnston and Alexander C. Loney
All events will take place 12–2pm in Phelps Hall, Room 401, 344 College Street, New Haven. A light lunch will be served.
Schedule of speakers (opens as PDF)
Sept 13, Jonas Grethlein
Oct 18, Martin Devecka
Nov 22, Michelle Zerba
Dec 13. Jessica Blum
January, Lyn Foxhall
Feb 28, Jonathan Hall
March 28, Josh Billings
April 11, Leonard Barkan