Style is a primary category of analysis that informs various fields across the Humanities at large. Stylistic analysis using various methodologies such as close reading, metrical analysis, autopsy, or comparisons of data sets, allow the scholar to organize his or her subjects of study (e.g., literary papyri, anonymous texts, official documents, artifacts) and generate taxonomies of dates, authors, places of production, etc. (See, Richard T. Neer, 'Connoisseurship and the Stakes of Style', Critical Inquiry, 32: 1, 2005, 1-26.)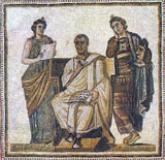 While serving as an empirical tool of inquiry, style is also central to various histories of art and literature that have traditionally focused on reconstructing the development of one or more styles across periods and have been patterned around successive waves of peak and decline of one or more particular style(s). A notable example is Johann Joachim Winckelmann, Geschichte der Kunst des Altertums, Dresden, 1764.
The seminar series for 2018-2019 seeks to interrogate the under-examined connection between style as an empirical category and style as a core element of histories of art and literature,  by exploring the historiographies of style. The word "style", derived from the Latin word for pen (stilus), is predicated on the distinction between content and form or outward expression, which, once described and classified across a variety of authors and artefacts, becomes known as a specific style. The etymological connection between a term for an implement - the pen-  and the term "style" encapsulates the inherent tie between the process of creating whether through writing, or drawing, and the formal qualities of the resultant work, whether a literary passage or an image. It also speaks to the fundamental connection between the visual and literary arts already witnessed in antiquity. Art is used as a metaphor to describe literature from the earliest times. "Painting is silent poetry and poetry is painting with the gift of speech", is the well-known adage ascribed to Simonides in Plutarch, De gloria Atheniensium 3.346f., while the visual realm has a central role in in ancient rhetorical analysis, as discussed for instance in Ruth Webb, Ekphrasis, Imagination and Persuasion in Ancient Rhetorical Theory and Practice, Farnham, 2009. Perhaps most strikingly, narratives of the history of rhetoric articulate notions of stylistic developments and at the same time are among the most important sources for the reconstruction of the history of Greek and Roman art, in particular Cicero, Brutus 70; Quintilian, On the Education of the Orator 12.10; and Pliny the Elder, Natural History 35-6. These ancient accounts that have informed modern constructions of the history of art, as in Winckelmann's art history, as well as Giorgio Vasari's Lives of Artists of 1550, and impacted the notions regarding style in general attest to the complexity of the history of style as an independent empirical category for analysis.
We propose to investigate the following questions:
-Historiography of style: how are styles conceptualized at different times and in different realms? What relation can we trace between rhetorical and artistic styles?
-Histories of art and histories of rhetoric: what purpose does the comparison to art serve in the purpose of narratives of literary history?
-How do categories of style intersect with biological and other scientific classifying practices?
-Fall and decline and other forms of periodization: to what extent is the historiographical narrative of decline in one medium influenced by accounts of other forms of decline in the other? To what extent, is fall and decline a Greco-Roman way of apprehending historical change as it pertains to style?
Support is generously provided by the Yale Classics Department and the Edward J. and Dorothy Clarke Kempf Memorial Fund. For more information, contact irene.peirano@yale.edu
Fridays from 12-2 in Phelps 401. A light lunch will be provided.
Colloquium Participants
Oct. 5 Nancy Worman, Ann Whitney Olin Professor of Classics, Barnard
Nov. 16 Alain Schnapp, Paris I Panthéon-Sorbonne, directeur Général de l'Institut National d'Histoire de l'Art (INHA), Professor of Greek art and archaeology
Nov. 30 Chris van den Berg, Associate Professor of Classics, Amherst College
Jan. 18 Jessica Lamont, Assistant Professor of Classics, Yale University
Feb. 1 Verity Platt, Professor of Classics, Cornell
March 1 Tonio Hölscher, Professor of Classical Archeology, University of Heidelberg
April 5 Jim Porter, Chancellor Professor of Rhetoric, Berkeley
April 11 (note new day) Emily Gowers, Professor of Latin Literature, Cambridge
Organizers: Milette Gaifman (Departments of Classics and History of Art) and Irene Peirano Garrison (Department of Classics)