Yale University works hard to support graduate students throughout their Ph.D. programs. For doctoral students in the humanities, Yale offers a full funding package for all incoming Ph.D. students for a minimum of five years, with most students in FAS programs eligible for a sixth year of funding.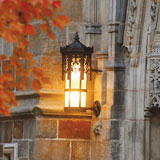 The basic package includes full tuition and generous annual stipend. In 2023-3034, Yale's minimum stipend is $40,530. Throughout the unique program of study crafted by a graduate student and his or her faculty advisers, the University's goal is to provide support that allows students to focus on their scholarship, successfully complete their education, and find rewarding careers. Generous sixth-year funding and teaching opportunities are available to those who are solidly on track to complete their dissertation by the summer after sixth year.
More detailed information on funding support is found in the department's Graduate Handbook (pdf). Particular information about support for graduate students with children can be found at the GSAS site.