Yale's Library resources and services for the study of Greco-Roman antiquity at Yale are among the richest in North America. These include a dedicated non-circulating Classics Library within the department; a large circulating collection housed primarily at Sterling Memorial Library; and extensive collections of rare classical materials at the Beinecke Library.
The Classics Library
The Classics Library, on the fifth floor of Phelps Hall, plays an integral role in the curricular program of the Classics department and functions in close and vital connection with its teaching and research. It contains a working collection of over 25,000 non-circulating volumes and is staffed by a professional librarian who coordinates library resources and services for classics across Yale, including a growing array of digital resources. Research support and reference services are provided on-site and via email. Graduate students have study carrels in the library, which also serves as an important center of collaboration. The Library is equipped with a book scanning station, public computer, and wireless networking. The Classics Library is open to all Yale faculty, staff, and students; Classics graduate students and faculty are able to access the library at all hours; for more details see the Library's access policy.
Yale's digital initiative
The Classics Department participates enthusiastically in Yale's digital initiatives, both in the Digital Humanities Lab and the growing digital collections.
Yale's Sterling Memorial Library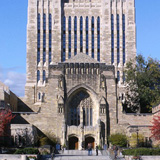 Less than two blocks from the Classics Department, Yale's Sterling Memorial Library provides one of the oldest and largest circulating collections of classical books and journals in the United States. Complementing SML and the Classics Library's holdings, the Haas Family Library of Architecture and Art holds materials on classical art and archaeology, and the Lillian Goldman Law Library has extensive collections on ancient law and its legacies. Access to these materials is facilitated by the Scan and Deliver service which provides on-demand digitization and delivery of chapters and journal articles from the Library's print collections. Yale is also part of the Borrow Direct consortium, enabling users to request circulating material from other Ivy League Libraries, the Center for Research Libraries, and the libraries of the University of Chicago, Johns Hopkins, and MIT for rapid delivery.
The Beinecke Rare Book and Manuscript Library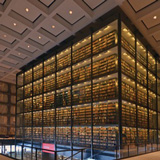 The Beinecke Rare Book and Manuscript Library has extensive collections originating from and pertaining to classical antiquity. These include a substantial collection of papyri; numerous Byzantine, Medieval, and Renaissance manuscripts of Greek and Latin works; and early printed editions of classical texts and scholarship, as well as neo-Latin literature. The Beinecke's far-reaching collections of literary and theatrical books and papers contain extensive materials for the study of the literary reception of classical tradition in more recent centuries. These are complemented by materials at the Medical Historical Library and the Law Library's Rare Book Room. All these materials are all available for examination and study by classics students and faculty, as well as interested visitors.