This interdisciplinary workshop serves as a meeting ground for those who work on the ancient world at Yale, and is an important forum that allows sustained conversation about a common theme. The workshop meets once a month during the academic year, and is supplemented by the core graduate seminar in  Archaia: Yale Program for the Study of Ancient and Premodern Cultures and Societies. Presenters include Yale faculty and graduate students, as well as occasional visiting professors. The chronological scope of the seminar extends over the first millennium BCE and up through the premodern period; issues of reception are also considered.
The Workshop theme for 2020-2021 is "Law and History, Law in History: Encountering Pre-Modern Civilizations Through the Lens of Legal Historiography", organized by Maria Doerfler and Travis Zadeh.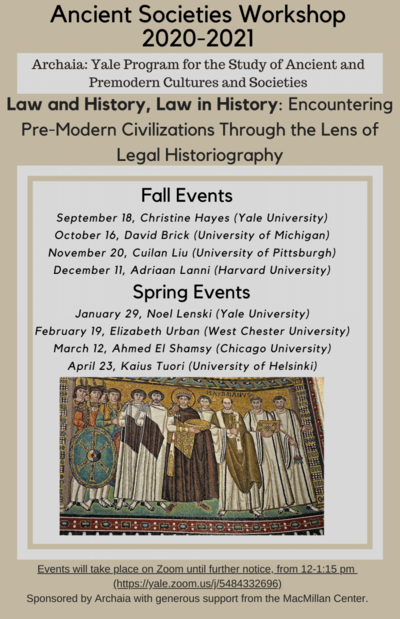 The associated core seminar meets in the Spring of 2021 and is being taught by Professors Doerfler and Zadeh.
 
HIST 513/ RLST 619/ CLSS 872/ MDVL 513/ NELC 683
T 3:30pm-5:20pm
This seminar invites students into a comparative exploration of the intersection of law, history, and historiography in the ancient and premodern world. Sessions explore these links across a variety of linguistic and geographic settings, including those of ancient and medieval India, China, Persia, Greece, and Rome, as well as in different political, religious, literary, and archaeological contexts. The seminar constructs the category of law expansively to encompass civic, religious, and hybrid forms of legislation. In the process, we seek to explore, inter alia, questions of the relevance of history for the study of law, history's deployment in the context of legal writings, and law's concomitant relevance for historiography; the use of theoretical models, including those forged in modern and postmodern contexts, for the study of law and legal historiography; and the implications of discourses about law and history in premodernity for contemporary, post-secular societies.
Alternatively, students can take "Historical Sociolinguistics in the Ancient World", taught by Professor Kevin van Bladel in spring of 2021, in order to meet the core seminar requirement for the Archaia qualification. 
NELC 668 / CLSS 829 / LING 668 
Social history and linguistic history can illuminate each other. This seminar confers the methods and models needed to write new and meaningful social history on the basis of linguistic phenomena known through traditional philology. Students learn to diagnose general historical social conditions on the basis of linguistic phenomena occurring in ancient texts.