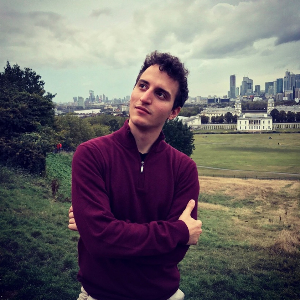 Rafail is a third-year graduate student in the combined program in History and Classics. His research focuses on Roman provincial cultures, imperial administration, interconnectivity, and law. Following an interdisciplinary approach, his recent work pertains to the ways provincial communities utilized the norms, institutions, and spaces of Roman law to construct their local identities and form the pluralistic legal landscape of the empire. Other research interests include the Ptolemaic empire, the Sasanian kingdom, Syriac literature, epigraphy, and numismatics. A participant in Yale's Archaia qualification, he also serves as a co-coordinator for the departmental Works in Progress and the Late Antiquity Reading Group.
Before coming to Yale, he received his Bachelor's degree in Classics from Princeton and his Master of Studies in Greek and Roman History from Oxford. Generously supported by the Ertegun fellowship, his Master's dissertation "Petitions, Ideology, and Roman imperialism: A study of late Roman imperial petitions, 193-284 CE" examined the appropriation of imperial ideology by late Roman provincials in their attempt to direct the actions of state officials and shape political discourses about the emperor. 
Feel free to contact him at rafail.zoulis@yale.edu.