Andrew Johnston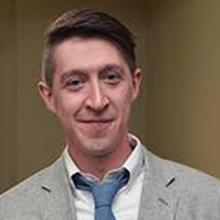 Associate Professor of Classics and (by courtesy) of History; Director of Undergraduate Studies in Classics
Andrew Johnston is an ancient historian whose primary research interests lie in the field of Roman cultural history. He studied at the University of Illinois, Urbana-Champaign (B.A. Classics and History 2006) and at Harvard University (Ph.D. Ancient History 2012).
His work focuses mainly on questions of memory, identity, cultural interaction, and the representation of selves and others, both at Rome and on the peripheries of the ancient Classical world.
His first book, The Sons of Remus: Identity in Roman Gaul and Spain (Harvard University Press, 2017), examines the experiences, memories, discourses, and cultural negotiations of local communities and individuals in the provinces of the Roman West, telling the stories of the other side – and the others' side – of Empire.  It won the First Book Award (2019) from the Classical Association of the Middle West and South, and the Charles J. Goodwin Award of Merit (2019) from the Society for Classical Studies.
He is currently working on a book on the place of kingship in the Roman imagination from the middle Republic into late Antiquity (and beyond), provisionally entitled Regnum: the Fear of Kingship in Roman Culture (under contract with Harvard University Press).
He has written articles on a variety of subjects in Roman history: archaic and imperial Latin inscriptions, ethnographic discourse in Caesar and in Cassius Dio, and the place of Odysseus the wanderer in imperial Greek culture.
Additionally, he has research and teaching interests in Roman archaeology and material culture; he currently serves as Director of the Field School of the excavations of the Gabii Project, near Rome, and has published extensively on the city of Gabii.  Students interested in participating in the field school should feel free to contact him.
As the current Director of Undergraduate Studies, Professor Johnston is always happy to meet with interested students.
Areas of Research
Roman cultural history; Epigraphy; Greek and Latin historiography and ethnography; Roman archaeology
Current Courses
The Roman World of the Plinys (Spring 2020); Issues in Roman History: Inscriptions (Spring 2020)
Selected Recent Articles
J. T. Samuels, M. Naglak, R. Opitz, J. M. Evans, A. C. Johnston, et al. (2021) 'A Changing Cityscape in Central Italy: The Gabii Project Excavations, 2012-2018.'  Journal of Field Archaeology 46.
A. C. Johnston and M. Mogetta (2020) 'Debating Early Republican Urbanism in Latium Vetus: The Town Planning of Gabii, between Archaeology and History.'  Journal of Roman Studies 110: 91-121.
A. C. Johnston (2019) 'Rewriting Caesar: Cassius Dio and an Alternative Ethnography of the North.'  Histos 13: 53-77.
M. Mogetta, A. C. Johnston, M. C. Naglak, and M. D'Acri (2019) 'The Street System of Gabii: New Evidence on the Republican Phases.' Fasti Online Documents & Research Italy Series 438: 1-33.
A. C. Johnston (2019) 'New Epigraphic Evidence for Municipal Institutions at Imperial Gabii.' Epigraphica 81: 669-75.
A. C. Johnston (2019) 'Odyssean Wanderings and Greek Responses to Roman Empire,' in T. Biggs and J. Blum (eds.) The Epic Journey in Greek and Roman Literature.  Cambridge: 211-39.
A. C. Johnston et al. (2018) 'A Monumental Mid-Republican Building Complex at Gabii.'  Papers of the British School at Rome 86: 1-35.
A. C. Johnston (2018) 'Nostri and the Other(s),' in L. Grillo and C. B. Krebs (eds.) The Cambridge Companion to the Writings of Julius Caesar.  Cambridge: 81-94.
A. C. Johnston (2015) 'Another Early Fragmentary Public Inscription from Gabii.'  Zeitschrift für Papyrologie und Epigraphik 195: 255-8.