Andrew Johnston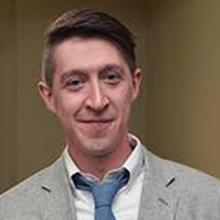 Associate Professor of Classics
Andrew Johnston is an ancient historian whose primary research interests lie in the field of Roman cultural history. He studied at the University of Illinois, Urbana-Champaign (B.A. Classics and History 2006) and at Harvard University (Ph.D. Ancient History 2012).
His work focuses mainly on questions of memory, identity, cultural interaction, and the representation of selves and others, both at Rome and on the peripheries of the ancient Classical world.
His first book, The Sons of Remus: Identity in Roman Gaul and Spain (Harvard University Press, 2017), examines the experiences, memories, discourses, and cultural negotiations of local communities and individuals in the provinces of the Roman West, telling the stories of the other side – and the others' side – of Empire.
He is currently working on a book on the place of kingship in the Roman imagination from the middle Republic into late Antiquity (and beyond), tentatively entitled Regnum: the Fear of Kingship in Roman Culture (under contract with Harvard University Press). He has also written articles on various subjects in Roman history: archaic Latin epigraphy, Caesar's ethnography, and the place of Odysseus the wanderer in imperial Greek culture.
Additionally, he has research and teaching interests in archaeology and material culture; he currently serves as Director of the Field School of the excavations of the Gabii Project, near Rome (https://sites.lsa.umich.edu/gabiiproject)
Field
Ancient History.
Areas of Research
Roman cultural history; Epigraphy; Greek and Latin historiography and ethnography.
Current Courses 
The Roman Republic, Cicero: Political Speeches, The Roman Empire, and Latin Epigraphy.