John Matthews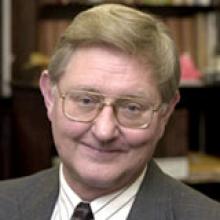 John M. Schiff Professor Emeritus of Classics and Roman History
John Matthews, John M. Schiff Professor Emeritus of Classics and History, came to Yale in 1996 from the University of Oxford, from where he holds the degrees of MA and D.Phil., and where he for many years taught Greek and Roman History. He was successively University Lecturer, Reader and Professor (ad hominem) of Late Roman Studies, and Fellow of Queen's College. In July 2003 he received the Honorary Degree of Doctor of Letters from the University of Leicester, his home city in the United Kingdom.
Professor Matthews' research interests focus primarily on the social and cultural history of the later Roman period. He is the author of Western Aristocracies and Imperial Court, A.D. 364-425 (1975), Political Life and Culture in Late Roman Society (1985 – twelve collected papers), The Roman Empire of Ammianus (1989), Laying Down the Law; a Study of the Theodosian Code (2000), and most recently The Journey of Theophanes: Travel, Business and Daily Life in the Roman East (Yale University Press, 2006), the winner of the 2007 James Henry Breasted Prize of the American Historical Association as "the best book in English in any field of history prior to CE 1000". He is also co-author, with Tim Cornell, of the widely-translated Atlas of the Roman World (1982). He has published many articles conference proceedings, ranging from the second-century tax law of Palmyra to the career of the philosopher Boethius in the sixth, and is one of four contributors from the Department to the Blackwell Companion to the Roman Empire. He is currently working on the early history of the city of Constantinople.
He is a Fellow of the British Academy, and of the Royal Historical Society and the London Society of Antiquaries. He has been a member of the Institute for Advanced Study at Princeton and of the National Humanities Center in North Carolina. His wife, Veronika Grimm, is also a member of the faculty of the Department of Classics.