Noel Lenski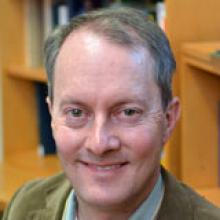 Professor of Classics and History
344 College St, New Haven, CT 06511-6629
Noel Lenski studied Classics at The Colorado College (BA 1989) and Classics and Ancient History at Princeton (MA, PhD 1995).
Lenski focuses on Roman history and particularly the history of the later Roman Empire. He is interested in power relations as these played themselves out at all levels of society, from emperors to slaves. His research ranges broadly across Late Antiquity and includes studies in political, military, social, economic, religious, cultural and art history. His two monographs, on the emperors Valens and Constantine, explore the limits of imperial power in light of reader response theory and life-worlds theory. He has also published extensively on the history of slavery in antiquity and is currently working on a monograph on slave law in the later Empire.
Recent Articles
"Searching for Slave Teachers in Late Antiquity," in C. Sogno, ed. ποιμένι λαῶν. Studies in Honor of Robert J. Penella. Révue des études Tardo-Antiques, 12, supplément 8 (2018-2019) 127-191.
"Slavery in the Byzantine Empire," in D. Eltis, S. Engerman, C. Perry, and D. Richardson, eds. The Cambridge World History of Slavery, vol. 2 (Cambridge: Cambridge University Press 2021) 453-81.
"Ambrose Thinks with Slavery – and Acts," in A. Hunnell Chen and W.V. Harris, eds. Studies in Honor of Alan Cameron (Leiden: Brill 2021) 41-65.
"Santo Mazzarino: Revolutions in Society and Economy in Late Antiquity," in C. Ando and M. Formisano, The New Late Antiquity: A Gallery of Intellectual Portraits (Heidelberg: Winter Verlag, 2021), 273-95.
Books Authored or Co-Authored
Constantine and the Cities: Imperial Authority and Civic Politics (University of Pennsylvania Press 2016)
Failure of Empire: Valens and the Roman State In the Fourth Century AD (University of California Press 2002; paper 2014)
A Brief History of the Romans, second edition (Oxford University Press, 2013) (with M.T. Boatwright, D. Gargola, and R. Talbert)
The Romans: From Village to Empire, second edition (Oxford University Press, 2011) (with M.T. Boatwright, D. Gargola, and R. Talbert)
Books Edited
The Fifth Century: Age of Transformation. Proceedings of the 12th Biennial Shifting Frontiers in Late Antiquity Conference. Munera, Studi storici sulla Tarda Antichità 46 (Edipuglia 2019) Pp. 320 (co-edited with Jan Willem Drijvers)
What is a Slave Society? The Study of Slavery in Global Perspective (Cambridge University Press 2018) (co-edited with Catherine M. Cameron)
Costantino prima e dopo Costantino — Constantine before and after Constantine (Edipuglia, 2012) (co-edited with G. Bonamente and R. Lizzi Testa)
The Cambridge Companion to the Age of Constantine (Cambridge University Press 2006; revised edition 2011)
The Power of Religion in Late Antiquity (Ashgate Press, 2009) (co-edited with Andrew Cain)
https://yale.academia.edu/NoelLenski